New Eye Dominance Shooting Aids
A discreet innovation has been developed that can be fitted to the barrel of a gun to control eye dominance. A key problem for many shooters at all levels of the sport.
The SP Eye Dominance Shooting Aids was designed to appeal to all shooters from all disciplines and works by telling the brain to use the image that is seen by the eye on the gun, rather than a conflicting image that can come from the other eye. This allows shooters to keep both eyes open during the shot a key element in shooting.
Most shooters suffer from some form of eye dominance issue, which can lead to inconsistent results in both clay and game shooting. Eye dominance can even swap from eye to eye. The SP was designed to combat this. By fitting the component to the gun barrel, a shooter can have total confidence that they're seeing a true image of the target and that it isn't being confused by another image in their peripheral vision.
Since the SP launch early 2019 we have seen some amazing results with all types of shooting and in both clay and game. You can read our reviews and watch the videos to help work out whether the SP can improve your shooting.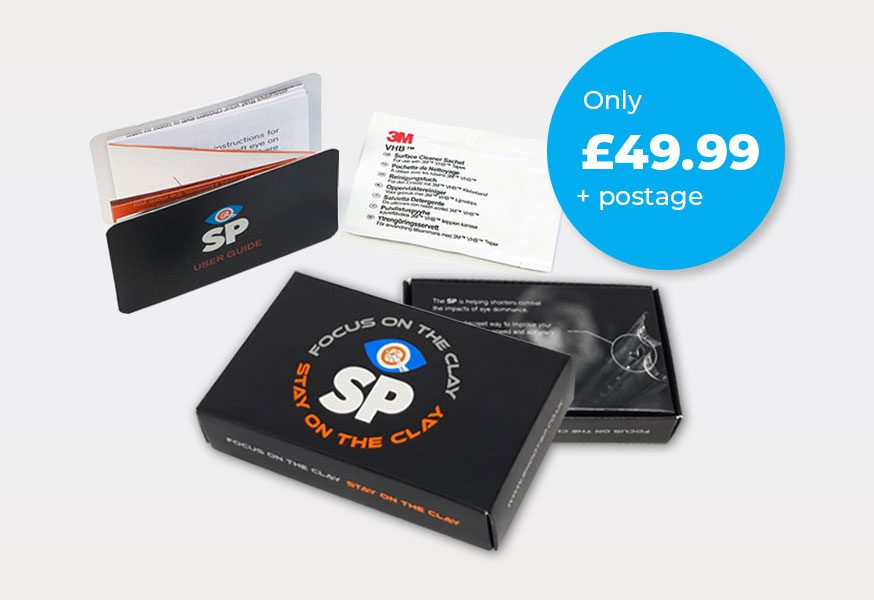 Also available in USA $49.99
The SP is available to purchase direct from this website in GBP and USD. This can be chosen at checkout. For other locations please contact us for shipping details. The SP can also be purchased from Retailers and Coaches. 
Need any help please call us or email us.