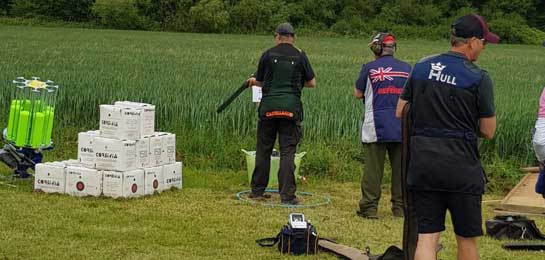 Clay pigeon shooting and all the varied disciplines give us an endless list of challenges, have you got to where you want to be in one discipline? Yes? Then you can start another discipline – there is a lifetime of challenges across the sport. Your ambitions may stretch to National or even International levels, maybe a club title of county title or being top shot in your group each week – the beauty of the sport is the diversity of the people and styles and the fun it presents.
Come rain or shine it doesn't matter the show can go on – this year has certainly achieved that with a hot spell being short-lived followed by a seemingly endless run of cold, wet, and windy weather. The end of May has seen blue skies and calmer conditions and the Clay Shooting Classic was timed perfectly to enjoy the conditions -seemingly a world away from the English open a week before in driving rain and 40 mph winds.
Great scores have been posted at the major events so far by the top shots, if you are struggling though, what can you do? Let's look at the fundamentals as some may not have shot properly now for over 12 months and we will most likely have changed shape for the better or worse.
Think about your gun fit – has your chest size changed does the gun fit into the pocket as it did before? Have you lost or gained weight? When you drop onto the gun is your head in the same position? These slight changes will start to affect where the gun is pointing and if combined is going to exaggerate the effects. Get your gun fit checked and ensure the gun is putting the shot where you think.
Have you been busy buying new recoil aids or pads or maybe chokes? Have you checked the balance of your gun? All these elements will affect a shooter differently and to different levels – along with your general form get these checked as it will affect your enjoyment and will be sending your shot literally up in the air.
Last but by no means least what about your eye dominance – home working normally means poor desk setups – screens will be too close and normally the wrong height. There is no longer a commute and you are not getting that extra exercise of the walk to the office – all these activities are good for you eyes too as they are working all the time — not so walking from one room to another in your house – so exercise those eyes.
Focus on the Clay – Stay on the Clay